Quality Components [Patent Pending]

Padded Strap Fully adjustably padded strap with a high-quality, breathable, eco-friendly, luxurious closed-cell foam wrapped in soft neoprene.
Dual Hinge The dual articulating hinges allows the Bladedisks to conform to your shoulder blades during movement.
Blade Disks The two circular blade disks are the support structures for the device and house the springs and straps.
Torque Clip Open lid of clip and feed strap until desired strength is achieved, then store excess strap in torque cover.
Release Buckle The high strength release buckle allows you to easily get out of Bladeflex and snap it back together ready for the next use.
Ease of use Once you have read the manual and setup Bladeflex for the first time
1
Put one loop over one shoulder and put opposite arm through the free hanging loop.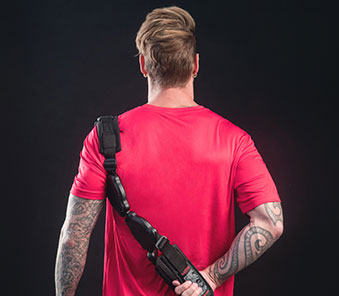 2
Stretch the Bladeflex over your second shoulder, as if you are putting on a backpack.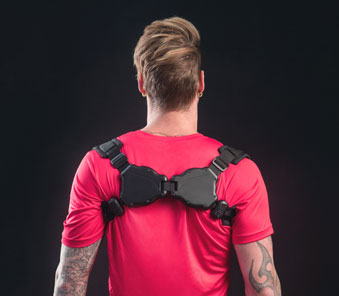 3
Easily remove Bladeflex with the release buckle and snap it back together for the next use.