Reduce shoulder and neck tension with this easy exercise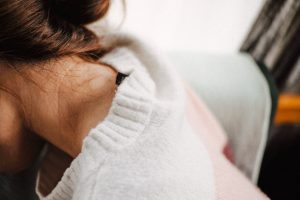 Do you have shoulder and neck tension? Before you read any further, take a moment to breathe in deeply. Exhale slowly and relax your shoulders, letting them sink as far away from your ears as you can. Let them sink down and back. Better? We thought so.
Ease the tension.
When we remember to ease the tension in our shoulders and neck and take a moment to focus on our posture, it's a welcome relief from the stresses of the day that can build up in these muscles. But sometimes, it's hard to remember to relax when the demands of daily life pile up. Before we know it, shoulder and neck tension becomes chronic and leads to decreased mobility, headaches, pain and reduced quality of life.
Meet Bladeflex.
Enter BladeFlex, a posture training system designed to help improve and maintain great posture. BladeFlex adapts with you as you progress through your posture correction. BladeFlex can be easily incorporated into your daily life, whether you sit at a desk or are mobile while working, or a little bit of both. During just thirty minutes of watching TV or working at your desk, you can make great strides to improve your posture and reduce head and neck tension.
The BladeFlex training system is made from high-quality materials and includes a one-year warranty. The padded straps are fully adjustable for size, made from high quality closed-cell foam and neoprene. As your posture improves and your head and neck tension is reduced, you can adjust the straps for more advanced wearing.
Adjustable, strong, effective and convenient – BladeFlex is a great way to maintain posture and reduce tension and pain. Learn more about BladeFlex and hear from our extremely satisfied customers, like Travis: 
"This has completely helped me correct my posture, no more pain in my shoulders or my back. Thank you so much!" 
Read more here: https://bladeflex.com/testimonials/